Cross country skiing in Kawartha Lakes offers a special combination of pure, serene wilderness and energizing outdoor discovery. With a variety of classic trails scattered throughout the region and many options for creating your own tracks, cross country skiing is a great way to explore Kawartha Lakes in the winter.
Explore the trails that link our many charming communities together in Kawartha Lakes. There are more than 600 km of trails spread across Kawartha Lakes. The Ganaraska Trail, Kawartha Trans Canada Trail and Victoria Rail Trail Corridor have several access points in different areas of Kawartha Lakes.
Be sure to check the trail use guidelines before heading out.
Our featured Cross-Country Skiing Trails:
Pigeon River Headwaters Conservation Area
Pigeon River Headwaters Conservation Area is a diverse 125-hectare (308 acre) property situated partially within the Oak Ridges Moraine. It is important for the many cold water seeps and springs that form the headwaters of Pigeon River, and as habitat for a diversity of wildlife. The southeast corner of the property offers a panoramic view of a vast tableland and the valley of the Pigeon River.
The conservation area has three interconnecting trail loops that total almost 5 km. The trails go through dense forest, wetlands and meadows.
The marsh boardwalk is a highlight of the park. Water milfoil, turtlehead, asters, cattails, and arrowhead all thrive along the length of the walkway. Frogs, salamanders, turtles, and other water loving creatures also enjoy the marsh.
It is located at 445 Gray Road, Pontypool off of highway 35. The road is unassumed and the driveway and parking lot are not maintained from October 31 to May 1.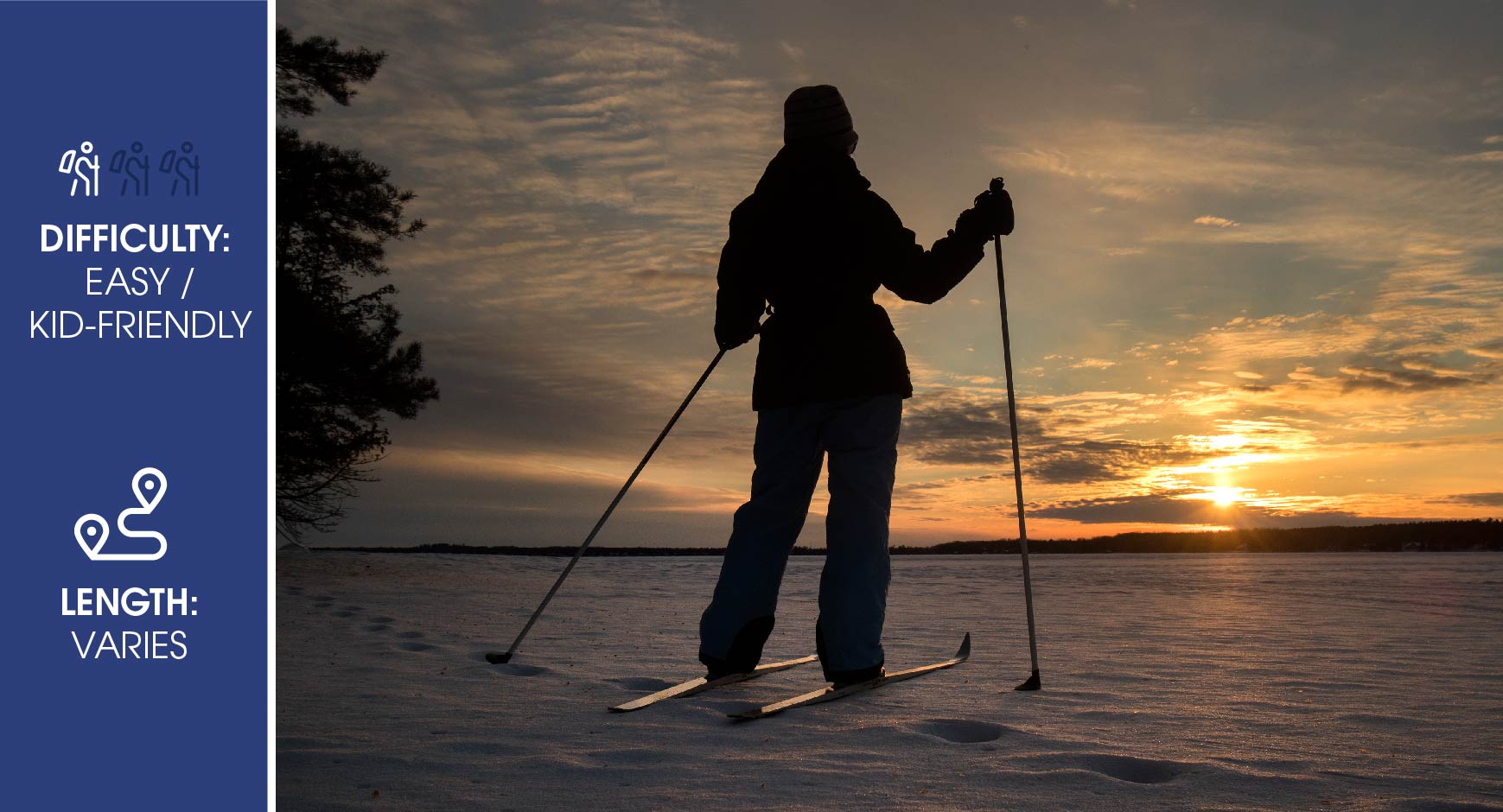 Ken Reid Conservation Area
Ken Reid Conservation Area is a 110-hectare (272 acre) property of open meadow and forest that provides protection to the Mclaren's Creek wetland. It is designed to be easily accessible and enjoyable for the whole family. It contains 12 interconnected trail loops totalling almost 12 km.
Amenities include:
hiking, cycling & cross-country ski trails
picnic shelters & group camping area
wetlands & viewing platform
swimming beach
Ken Reid Conservation Area is located 3 km north of Lindsay on Sturgeon Lake, off Hwy 35 on Kenrei Park Rd.
For more information: 705-328-2271
Windy Ridge Conservation Area
Windy Ridge Conservation Area is a 35-hectare (87-acre) property that offers an ideal spot to enjoy a short walk in the open air and a stunning view.
It is located at 998 Mount Horeb Road off of highway 35. A lookout is minutes away from the parking lot, where you can see a panoramic view of natural areas of significance and beauty, including the Oak Ridges Moraine, the Hogsback Esker, and a provincially significant wetland that includes Pigeon River and Fleetwood Creek.
The Conservation Area has a single 1.3km loop trail and is bordered by the Victoria Rail Trail along the western boundary. Parking is not maintained from October 31 to May 1.
Fleetwood Creek Natural Area
Fleetwood Creek Natural Area is a 900 acre (380 hectare) tract of land managed by Kawartha Conservation for the Ontario Heritage Foundation. Located within the Oak Ridges Moraine, the area is characterized by steep valleys, sand, soil, and many cold water streams. These streams form the headwaters of Fleetwood Creek, a major watercourse within the Kawartha Region watershed. The property is home to 250 species of flora and fauna and 44 species of birds. Three trails lead you through uplands, deciduous forests, meadows, and wetlands. Fleetwood Creek Natural area is located at 902 Ballyduff Road, Pontypool.
Forest Trail
The Forest Trail is divided into two branches; the West Branch is a 3 km loop which consists of a twisting path on a gradual slope leading through open meadows and forests. The East Trail, a 3 km loop leads through a dense forest then climbs up the valley slope. The Trail ends with a walk through an open meadow and then back through the forest to the parking area.
Valley Trail
The Valley Trail is a 2.2 km trail that allows the visitor to view the characteristic valley lands of the area from two perspectives. An observation platform offers a spectacular view of the surrounding land at any time of the year. The more adventuresome can also descend into the valley.
Telephone: 705-328-2271
Bobcaygeon Wilderness Park
Bobcaygeon Wilderness Park provides over eight acres of safe, accessible trails for walking, hiking, cross-country skiing and snowshoeing through a beautiful mature forest. The park also provides a unique educational opportunity to visitors.
Interpretive signs provide an educational component, explaining the significance of many of the natural features found within the park and along the trails.
The Bobcaygeon Wilderness Park is located in the northeast corner of Bobcaygeon, just off County Road 36.
Lindsay Legacy Trail
The Lindsay Legacy Trail is 1.6 km section of paved trail from Victoria Junction (the corner of William Street North and Orchard Park Road, Lindsay) to Thunder Bridge Road, along the Victoria Rail Trail Corridor.
This trail is great for any form of active transportation. Stop by the railway station replica for information on geocaching, train history and local wildlife.
Ganaraska Hiking Trail
The Ganaraska Trail is a recreational trail with a total length of 500 km. Since 1967 it has been developed and maintained solely by volunteers and private landowners. The trail stretches across every type of landscape possible. Its route crosses parts of the Somerville Tract and the Victoria Rail Trail.
The Kawartha section starts on the Victoria Rail Trail where it intersects with Crosswinds Road, south of Reaboro. It follows the rail trail to Lindsay, along the Scugog River for some distance, and then takes the Victoria County Recreation Corridor, which it follows to 2 km past Burnt River. At this point, the trail increasingly sees evidence of Canadian Shield country. The section ends in Moore Falls after 77 km or varied terrain.
The first 50 km are flat, and the next 20 km are rugged. The last 5 km are on country paths from Buller Road to Moore Falls. This section is suitable for novices.
The Kawartha Trans Canada Trail
The Kawartha Trans Canada Trail offers a natural recreational corridor for people of all ages and abilities.
This historic railway bed is now a magnificent recreational corridor with a crushed limestone surface. This 53.8 km section of the national trail traverses east to west across Kawartha Lakes. The trail surface is 3 metre wide, hard-packed limestone which provides flat level surface, ideal for a variety of trail uses.
You will encounter woodlands, farmlands, wetlands, and communities. For the most part, the trail is relatively flat, with modest changes in elevation throughout its entire length. Trail users will find facilities such as benches, bicycle racks, and picnic shelters along the way.

Core Trail Uses: Hiking/Walking/Running, Cycling, Horseback Riding, Cross-Country Skiing/Snowshoeing, Snowmobiling

Prohibited Uses: With the exception of snowmobiles, all motorized vehicles including ATV's and dirt bikes are not permitted on the trail.
The Missing Link and Doube's Bridge: A Chronology
The Kawartha Trans Canada Trail is multi-use from Lindsay to Fowlers Corners. The trail has been surfaced (hard-packed limestone) is flat and level and passes by scenic rivers, wetlands and vary of landscapes. There are many access points including County Road 36, Omemee and road crossings between Lindsay and Peterborough.
The Kawartha Trans Canada Trail goes through Lindsay on hard-packed limestone. It is flat and level allowing for easy travel passing the villages of Little Britain, Oakwood and Manilla on the way to the Town of Uxbridge and beyond. There are access points at Sir Sandford Fleming College Frost Campus or Angeline Street South behind Sweetnam Drive in Lindsay. There are numerous access points where the trail crosses roads heading west.
Victoria Rail Trail (VRT)
The Victoria Rail Trail is an 85-kilometer rail trail in Kawartha Lakes with corridors linking Kinmount to Bethany, through Fenelon Falls and Lindsay. This public, multi-use trail is uniquely linked by affiliated trail connections for the explorer in all of us. The VRT is open year round for the avid outdoor enthusiast, honouring the rules and regulations for seasonal usage. Always take the scenic route.
The online interactive trail map will assist in your planning and exploration of the Victoria Rail Trail and its affiliated trail connections.
For an accessible format of the Victoria Rail Trail map contact tourism@kawarthalakes.ca or 1-866-397-6673.
---
Looking for more trails to explore?
Check out these additional resources and pages for more trail options for getting out on your cross-country skis this winter:
Try to stay on the trail, even if it's rough and muddy.
Stay to the centre of the trail. Walking or cycling on the edge of the trail can widen the trail, causing damage and erosion.
Travel single file to avoid widening the trail.
Avoid sensitive vegetation and watch where you put your feet.
Be especially cautious around horses and bikers, stay to the right of the trail and let them pass.
If you are in a group and are not following a marked trail (i.e., walking through an open field) try to spread out rather than following in each other's footsteps to reduce environmental impact.
Allow for future use of the outdoors, by leaving it better than you found it. Carry out what you carry in, don't burn or bury trash.
Respect the environment and other trail users. Be considerate and honour other's desire for solitude and a peaceful outdoor experience.